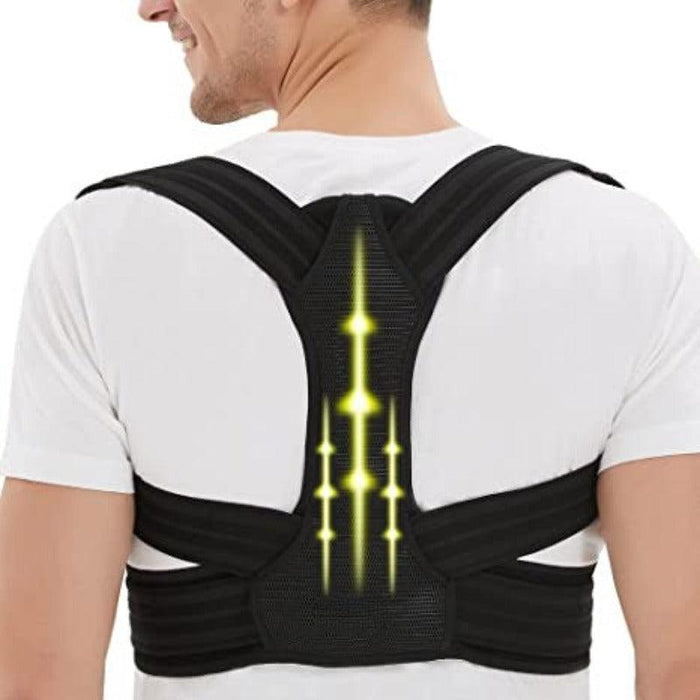 Upper and Lower Back Brace
In Stock

Improve your posture and protect your back with our versatile Upper and Lower Back Brace.

Designed to address health issues caused by poor posture, this brace offers the support you need for a healthier spine.
It provides stability and support to your upper and lower back, helping you maintain proper form and preventing injuries during workouts.

Whether you're engaging in physical activities or simply going about your daily routine, our back brace is here to provide comfort and maintain proper alignment.

FEATURES:
Comfortable Fit: We understand the importance of comfort when it comes to wearing a back brace. Our product is made from high-quality materials that offer a comfortable fit, allowing you to wear it for extended periods without discomfort.
Adjustable and Secure: The adjustable straps of our back brace ensure a customized fit that conforms to your body shape. This helps you find the ideal level of support and compression for your upper and lower back, promoting a healthy posture.
Posture Corrector: Specifically designed to correct poor posture, our back brace promotes proper spinal alignment, relieving strain on your upper and lower back.
Experience improved posture and reduced discomfort as you wear it throughout the day.
Size Chart:

| | | |
| --- | --- | --- |
| Size | Waist (Inch) | Weight (lb) |
| S-M | 27-39 | 110-170 |
| L-XL | 37-47 | 170-200 |
Say goodbye to back pain and embrace a healthier, more confident you. Don't let poor posture hold you back any longer.
Order now and prioritize your spine's health and alignment.