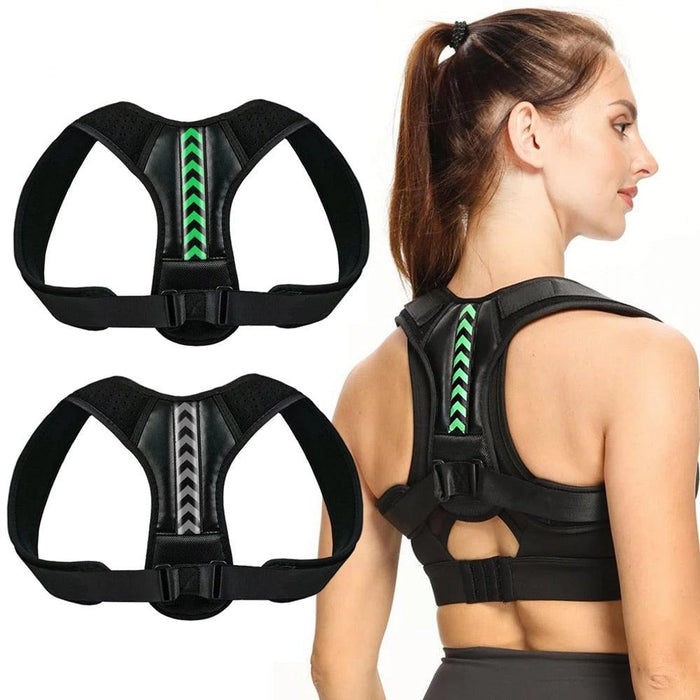 Posture Corrector - Back Brace for Men and Women
In Stock

Say goodbye to chronic back pain and embrace a pain-free life with the Comfy Back Brace Posture Corrector. (MEN/WOMEN)

This innovative back brace is designed to alleviate back, neck, shoulder, and clavicle pain, making long working or standing hours a breeze. By properly aligning your posture, it relieves pressure from key areas, providing you with ultimate comfort and support.
Experience the transformative power of proper posture alignment as we take the weight off your shoulders—literally!


FEATURES:

Adjustable Sizes: This unisex brace is fully adjustable and fits chest sizes ranging from 30" to 43", ensuring a perfect fit for both men and women.

Innovative Design: Our proprietary orthopedic design corrects your posture in the most comfortable way possible. The adjustable straps allow you to customize the level of support and compression for optimal comfort.

Develop Correct Posture: Start by wearing the back straightener for 5-10 minutes per day and gradually increase the duration. With consistent use, you will notice significant improvements in your posture, leading to increased confidence and a healthier appearance.


Premium Quality and Comfort: Our back brace is crafted with high-quality materials to ensure durability and long-lasting use. The soft and breathable fabric remains comfortable even during extended wear, while the ergonomic design provides maximum support.


Material Composition: The brace is made of a blend of 60% polyester, 17% rubber, 15% nylon, and 8% cotton, ensuring a comfortable and flexible fit.



Versatile Fit: The brace is designed to fit waists ranging from 24" to 43", catering to a wide range of body sizes and shapes.

Internal Magnets: The posture corrector is equipped with internal magnets strategically placed to stimulate and correct disrupted magnetic impulses, aiding in reducing back and neck pain.
Easy to Clean: The materials used in the brace are easy to clean, allowing for convenient maintenance and hygiene.

SIZE INFO: