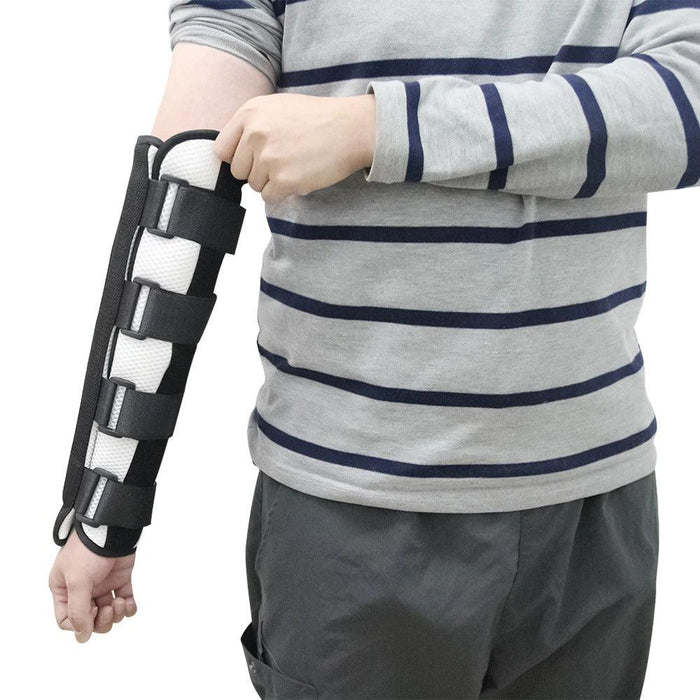 Elbow Fixed Arm Splint Support Brace
In Stock

Our Elbow Fixed Arm Splint Support Brace is the perfect solution to keep your muscles supported and protected during physical activity.

Designed with your comfort and performance in mind, this brace provides the necessary stability and support to enhance your arm's strength and prevent potential injuries.

Whether you're engaging in sports, working out at the gym, or performing everyday tasks, our brace has got you covered.
FEATURES:
Material: Crafted from high-quality non-woven material, our arm splint support brace offers excellent durability, breathability, and flexibility. It allows for unrestricted movement while maintaining optimal support and protection.
Comfortable and Breathable: We prioritize your comfort and ensure that our brace is both comfortable and breathable. The non-woven material wicks away moisture and allows proper airflow, preventing discomfort and keeping your arm cool and dry.


Versatile Use: Whether you're an athlete, fitness enthusiast, or simply need support during daily activities, our elbow fixed arm splint support brace is suitable for a wide range of situations.
Size Chart:
| | | |
| --- | --- | --- |
| Size | Length | Width |
| S | 8.7 | 7.5-9.8 |
| M | 12.2 | 10.2-13.8 |
| L | 14.2 | 10.6-14.6 |