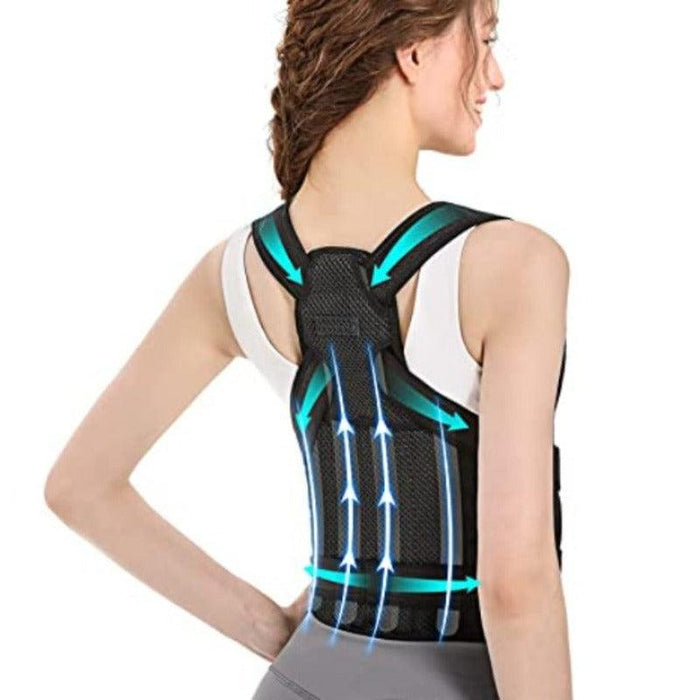 Back Brace and Posture Corrector
In Stock

Unleash your true potential and conquer any challenge with our game-changing Back Brace and Posture Corrector. Designed to ignite your performance and elevate your posture, this exceptional brace is a must-have for athletes and fitness enthusiasts alike. Step into a world where strength, support, and style converge in perfect harmony.

Crafted with precision and backed by science, this brace is your ultimate companion in the pursuit of greatness.

Dare to stand tall, both on and off the field

Say goodbye to slouched shoulders and hello to a confident, commanding presence.
FEATURES:
Effective Posture Correction: Our Back Brace and Posture Corrector is meticulously designed to improve your posture. It gently pulls your shoulders back, aligns your spine, and helps you maintain proper alignment throughout your activities.


Customizable Fit: With its adjustable design, our brace ensures a perfect fit for individuals of different body shapes and sizes. It can be easily adjusted to provide the ideal level of support and comfort for your specific needs.


Versatile Usage: This brace is not limited to a single activity. It is a versatile solution suitable for various sports and exercise routines. Whether you're weightlifting, running, or engaging in yoga, our brace has got you covered.


Enhanced Comfort: Back Brace and Posture Corrector is made from high-quality materials that are both supportive and breathable. You can focus on your performance without any discomfort.
Size Chart:

| | |
| --- | --- |
| Size | Waist (Inch) |
| S | 26"-34" |
| M | 34"-41" |
| L | 41"-49" |