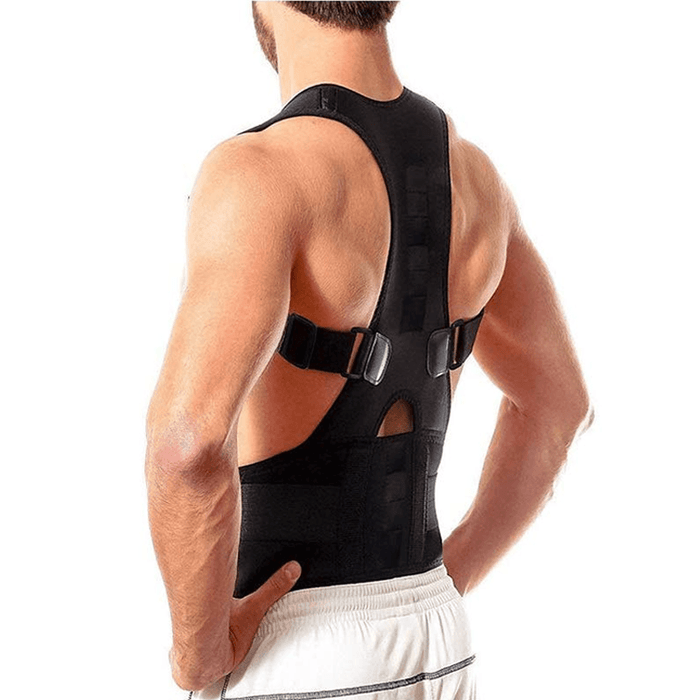 Posture Corrector Back Brace
In Stock

Posture Corrector Back Brace stabilizes and supports your shoulders, chest, and back with this posture correction brace. You can deal with bad posture, hunchback, back pain, and tension. Besides, keeping your posture straight boosts your confidence and makes you look more attractive. Heat-resistant rubber with a high modulus of elasticity improves the life of the belt and the Comfortable immobilization provided by this belt makes it an ideal belt for everyday use in mild back aches.
Highlights: 
Internal magnets work to decrease back and neck pain by attempting to correct disrupted magnetic impulses
Material: 60% polyester | 17% rubber | 15% nylon | 8% cotton
Fits waists 24"– 43"
Size Chart:

| | | | |
| --- | --- | --- | --- |
| Size | Fits Waist Size | Flat Length | Strap Length |
| S | 65 - 75 cm | 85 cm | 32 - 45 cm |
| M | 70 - 80 cm | 90 cm | 33 - 46 cm |
| L | 75 - 85 cm | 95 cm | 35 - 48 cm |
| XL | 80 - 90 cm | 100 cm | 39 - 51.5 cm |
| 2XL | 85 - 95 cm | 105 cm | 42 - 55 cm |